The advantages of outsourced bookkeeping services enhanced the profitability of accounting firms by allowing them way free up time to muse on the core business competencies. This apparently lessens the administrative burden of the enterprise for sure. Recently the entrepreneurs are realizing the benefits through outsourcing the noncore business process.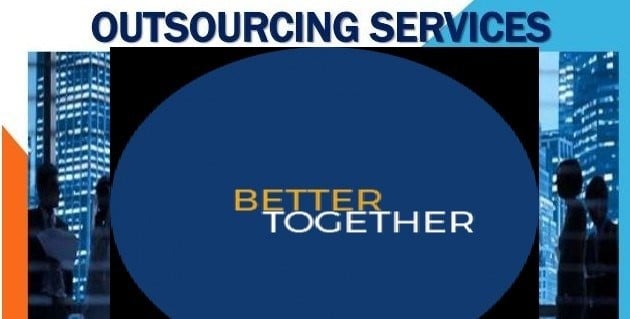 Outsourcing helps a business grow and increase revenue. A business can increase its clientele, public relation and business reputation implementing accounting and outsourcing.
This way the business owner can win over the hearts of the customers by offering them better quality goods and services at competitive prices.
Competition in the US Accounting Industry and Outsourcing
Several US top notch accounting firms are more concentration on their clients part in maintaining customer relationships to generate revenue through outsourcing their transactional (bookkeeping & accounting company) work.
To rise in the competitive digital world with all access to new technologies all business units whether big or small has been following this emerging trend. The advanced features of cloud and AI, in the accounting industry are making the US market competition way tougher than ever before.
So if you are taking the support of outsourced accounting services, you can definitely grab a greater market share in a very short period of time. It also helps you providing effective customer experience through enhancing client relationships.
When you are selecting an outsourced partner of different culture the core threat is all about your brand which can be at a great risk if they lack the knowledge of your product, services or business.
To avoid any confusion and ensure the brand reputation there should be a transparent interaction between you and your outsourcing partner.
As a solution to the matter, the companies can provide sessions of on-boarding training processes to make them learned about their business product, processes, and requirement.
We the outsourced bookkeeping serves our US clients as an extension of their brand. Our work is the reflection of their ultimate culture. We cater them in aligning the objective and attaining the goals.
Spending money in and recruitment of internal staff has no meaning either. US business firms are spending much in sharpening the talent and skill of the employees, providing them training on the technology to enable them to match up with the demand of the industry. Hence those results making the domestic staff start their own practice or jumps to other practice.
So to deal with the major challenge for the industry outsourcing accounting activity is the best alternative.
Below are the reasons how accounting outsourcing work for US accounting practices to take a leap forward.
Outsourcing makes you focus more on high-value work:
For building stronger client relationships accountants should take a forward step in consulting and on strategic advisory activities. But it has been seen they are more into compliance and number crunching work. This nowhere helps the company in maintaining its reputation and enhancing their skills. However, outsourcing brings a lot of free time to the internal staff which can be invested in a more structured way to bring positive outcome at the bottom line of your business.
Outsourcing Faster your Turn around Time:
A good Turnaround Time needs extensive knowledge on the US accounting with the active participation of the board of directors. There should be a blend of skill and experience. A few companies can do this. Hence you can manage things with the help of an accounting outsourcing company. They are the expert in the field of tax preparation, accounts, bookkeeping among accounts receivables and accounts payables. They can serve you with the most accurate deliveries. A faster Turnaround Time increases the efficiency and productivity of your enterprise.
Managing the skill shortage
Hiring outsourcing services can resolve your issue of finding appropriate talent. The outsourced companies are expert enough to deal with all your accounting and bookkeeping issues. You can save money in finding a perfect match for your task requirement. You do not need to spend on an advertisement regarding hiring and recruiting the staff. You can save on the expenses like running an office, maintaining air conditions, paying office rent, expenses of employee benefit and the like.
We the Outsourced Bookkeeping is your best business partners. You can trust us with closed eyes. Hiring us will not going to be a costly affair for you. We have affordable accounting and bookkeeping service package plans suitable for all size if business.  Feel free to get in touch with us. We are offering free consultation services to all prospective customers.
*******************